This is an article about a Guinea Pig breed.
The Teddy guinea pig is a medium, short-haired breed of guinea pig created by genetic mutation, giving it a thick, dense coat.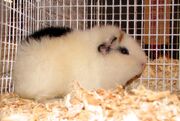 The Teddy guinea pig is characterized by a short, dense coat which gives it a 'fuzzy' look. It was most likely made to be by genetic mutation, the story being that a group of scientists either accidentally or purposefully created this breed of guinea pig for certain experiments. Like the Skinny guinea pig, which was bred to test dermatology products, it could have been bred for a specific purpose in the lab.
This particular breed is about medium sized with a short, dense coat, giving it a "fuzzy" look, almost like a teddy bear. This coat actually helps with temperature, doing a great job in keeping the little guy warm and snug when it gets cold. They come in a huge variety of colors and patterns (as much as you can think of, in fact), and are common in pet stores. They are alert, relatively emotional, and make great cuddle buddies.